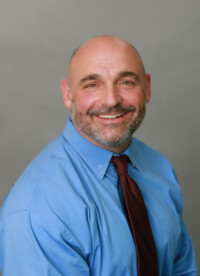 Jeffrey Kamuda is a Physical Therapist who treats fundamental to advanced orthopedic injuries at Optima Sports Therapy & Rehabilitation. Jeff strongly believes that all patients deserve therapeutic excellence throughout their time of injury and healing.  Jeff's passion as a Physical Therapist stems from a life-long obsession of understanding how functional patterns of movement directly relate to the body and sport performance. Having three athletic boys myself has allowed me the privilege to coach and learn first-hand how to maximize functional movement as it directly relates to performance.
In addition to managing the clinic operations at Optima Sports Therapy & Rehabilitation, Jeff works tirelessly with various types of athletes, promoting the highest level of physical and mental training. Performance enhancement involves not just the physical aspect of sport and rehabilitation, but also the emotional impact on the patient. By always treating the whole patient, Jeff believes that overall wellness can be improved.
Jeff is a graduate of Northeastern University, and holds a Bachelor of Science degree in Physical Therapy. His work outside of the clinical setting includes holding nationally recognized lectures on shoulder assessment, injuries and rehabilitation through Healthsouth.