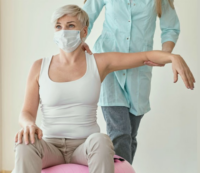 Mobility Sports Therapy & Rehab
At Mobility Sports Therapy, we care about our community, and we consistently strive to provide the best care for every patient that walks in our doors.
We start with getting to know you and your goals at the initial evaluation. Mobility Sports Therapy provides optimal multi-disciplinary care through efficient communication and collaboration.
Using the most up-to-date evidence-based treatments paired with our clinical expertise, we'll get you back in the game of life! We can't wait for the opportunity to work with you to get you back to feeling your best.
Mobility Sports Therapy Physical Therapy will improve your ability to move, reduce and manage your pain, restore function, and help prevent disability.
After conducting an initial examination, our physical therapists will develop a treatment plan for you. We will work with you to make sure you understand every instruction we give you, along with why you are doing it!
Occupational Therapy/Hand Therapy
Our specialist knows the ins and outs of hand therapy. We can work with you to provide one-to-one, personalized treatments that get you back to a happier, more independent lifestyle.
Aquatic Therapy
Aquatic Therapy uses water buoyancy to reduce the amount of stress placed on joints. The water will help enhance the blood flow, aiding in healing joints and injured muscles. Aquatic therapy can treat many conditions with less stress than traditional therapy.
Mon-Thurs 7:00 am – 7:00 pm
Fridays 7:00 am – 3:00 pm
Saturdays 8:00 am – 11:30 am
Mobility Sports Therapy & Rehab
16 Pelham Road / Route 97
Suite 2, First Floor
Salem, NH 03079
Tel: (603) 894-1111
FAX: (603) 894-1113
Andover Office:
323 Lowell St.,
Andover MA, 01810
West Wing, First Floor