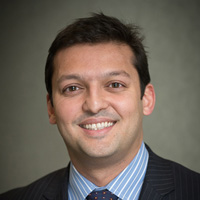 Adult reconstructive and complex revision spine surgery

Disc replacement, minimally invasive spine surgery, robotic navigation

Cervical spine surgery
Scoliosis spine surgery
Spine trauma
Surgical treatment for spine issues as well as fractures of the neck and back
Dr. Thakur is a Board Certified Orthopaedic Spine Surgeon, who specializes in Adult Reconstructive Spine Surgery. Previously, he was an Assistant Professor at SUNY – Upstate in Syracuse NY, where he performed over 300 elective and traumatic spine surgeries at a Level 1 Trauma Center each year. He also developed and ran the spine program at Upstate University at Community General. He continues to hold an adjunct professorship there and is actively involved in his stem cell lab, which he co-directs.
Dr. Thakur completed his spine fellowship at the prestigious Emory Spine Center in Atlanta, where he was involved in the care of the Atlanta Falcons. He also completed an orthopaedic trauma fellowship at Brown University – Rhode Island Hospital. He previously did his orthopaedic residency at Brown at the Rhode Island Hospital and Warren Alpert School of Medicine where he received the Haffenreffer House Staff Excellence award for being the top orthopaedic resident at Rhode Island Hospital. He also won the Lucas and Palumbo Spine Achievement award, Peter Trafton Trauma Research Award and the New England Orthopaedic Society Kilfoyle award for his research and clinical contributions in the field of orthopaedic spine and trauma.
He attended Dartmouth Medical School and was inducted into the Dartmouth Mosenthal Surgical Society for excellence in surgery. He is a member of the American Association of Orthopaedic Surgeons, the North American Spine Society and has published over 25 articles and 6 book chapters. He serves as a review for the Journal of Orthopaedic Trauma, Annals of Oncology and PLOS-One.
Dr. Thakur specializes in surgical treatment for spine issues such as compression of the spinal cord, (cervical radiculopathy and myelopathy), sciatica, adult scoliosis as well as spine fractures and neck and back pain. He uses a variety of surgical techniques including minimally invasive and motion sparing technologies in order to achieve successful outcomes for his patients to improve their quality of life. He has presented his work numerous times at national conferences on these topics.
In his free time, he loves spending time with his wife and daughter and is an avid golfer and Pats fan.
Dr. Thakur shares "my wife, daughter and I are thrilled to move back home to Massachusetts and New England. I am excited to provide the highest quality of care to patients and their families. I am energized to have the opportunity to serve this community."
Dr. Thakur is now accepting new patients. He looks forward to caring for your neck and back pain issues.
Affiliations and Memberships

Board Certified in Orthopaedic Spine Surgery
Member, American Association of Orthopaedic Surgery
Member, Arthroscopy Association of North America
Member, Phi Beta Kappa
University of North Carolina at Chapel Hill, B.S. Mathematical Sciences, Operations Research, 2001
Dartmouth Medical School, Doctor of Medicine 2005
Brown Alpert Medical School, Internship 2006
Brown Alpert Medical School, Residency 2010
Brown Alpert Medical School, Trauma Fellowship, 2011
Emory University, Spine Fellowship 2012
See what our patients are saying!