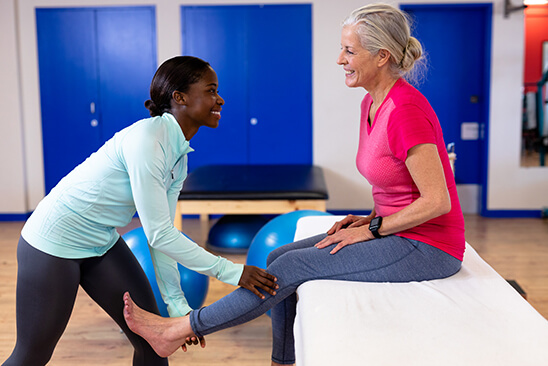 PT includes evaluating, assessing, and treating individuals, enhancing the quality of their lives.
If you have never visited a physical therapist before, you may not be familiar with what exactly physical therapy (PT) is and how it can help. Even if you have visited before, you may not realize just how much PT can help!
Many people come to us for pain management or after an operation or injury that reduces mobility. However, physical therapy can help with so much more.
What Exactly Is Physical Therapy?
Physical Therapy is the medical discipline of dealing with injury or injury prevention, dysfunction, pain, and increasing mobility. PT includes evaluating, assessing, and treating individuals, enhancing the quality of their lives.
PT uses non-surgical techniques to improve quality of life. Instead of medicine, your PT will often prescribe exercises or activities to help you feel better, perform better, or prevent injury. Exercises are the first treatment that comes to mind for many, but PT can utilize various PT methods.
What Can Physical Therapy Help Me With?
Physical Therapy can give various benefits to patients, including:
Pain management
Reducing the need for prescription pain medication
Improved mobility
Recovery from injuries, trauma, stroke, paralysis, or surgeries
Reducing the need for surgery in some cases
Preventing falls
Managing medical problems
Maximizing performance, especially in an athletic setting
What Qualifications Do Physical Therapists Have?
Physical Therapists are professionally licensed. They must have a doctorate unless they were practicing before that requirement was instated, in which case their experience and a master's degree suffices.
Needless to say, PTs are fully trained to help patients with various conditions.
What Is Physical Therapy Like?
Your first visit to a Physical Therapist will include a physical examination. Your PT will review any referral notes and evaluate your condition. You may perform some tests that will help inform your PT with your evaluation.
You will discuss your goals and lifestyle with your PT. Your PT will ask about any pain you are experiencing at the moment and any other areas of your life that may be affected.
Your PT will develop a treatment plan, which can include various techniques. Your PT will evaluate your progress at each subsequent visit and modify your plan as needed. You may also perform exercises with your PT and receive an at-home plan for you to practice.
Should I Get Physical Therapy?
Many people think they need a referral to consider PT, but that's a misconception! Any individual can come to visit us to improve their quality of life. We also specialize in helping athletes perform their best. Improving mobility can enhance athletic performance!
If you have any questions or want to know more about the benefits of physical therapy, contact us today!